seahorse healing
Meet The Team
The Magic of Seahorse Healing
 Magic is a Gypsy Vanner gelding, a breed that hails from Ireland, known for pulling ornate gypsy wagons for centuries. It is said that Gypsy horses are one step off the fairy realm, one step closer to the spiritual vail. In his presence it is easy to see why that belief is still held today. Magic holds great space for clients and floats like a cloud on the wind.
Feel free to reach out if you have your own horse(s) or facility and would prefer a session in the privacy of your own home: nelle@seahorsehealing.com.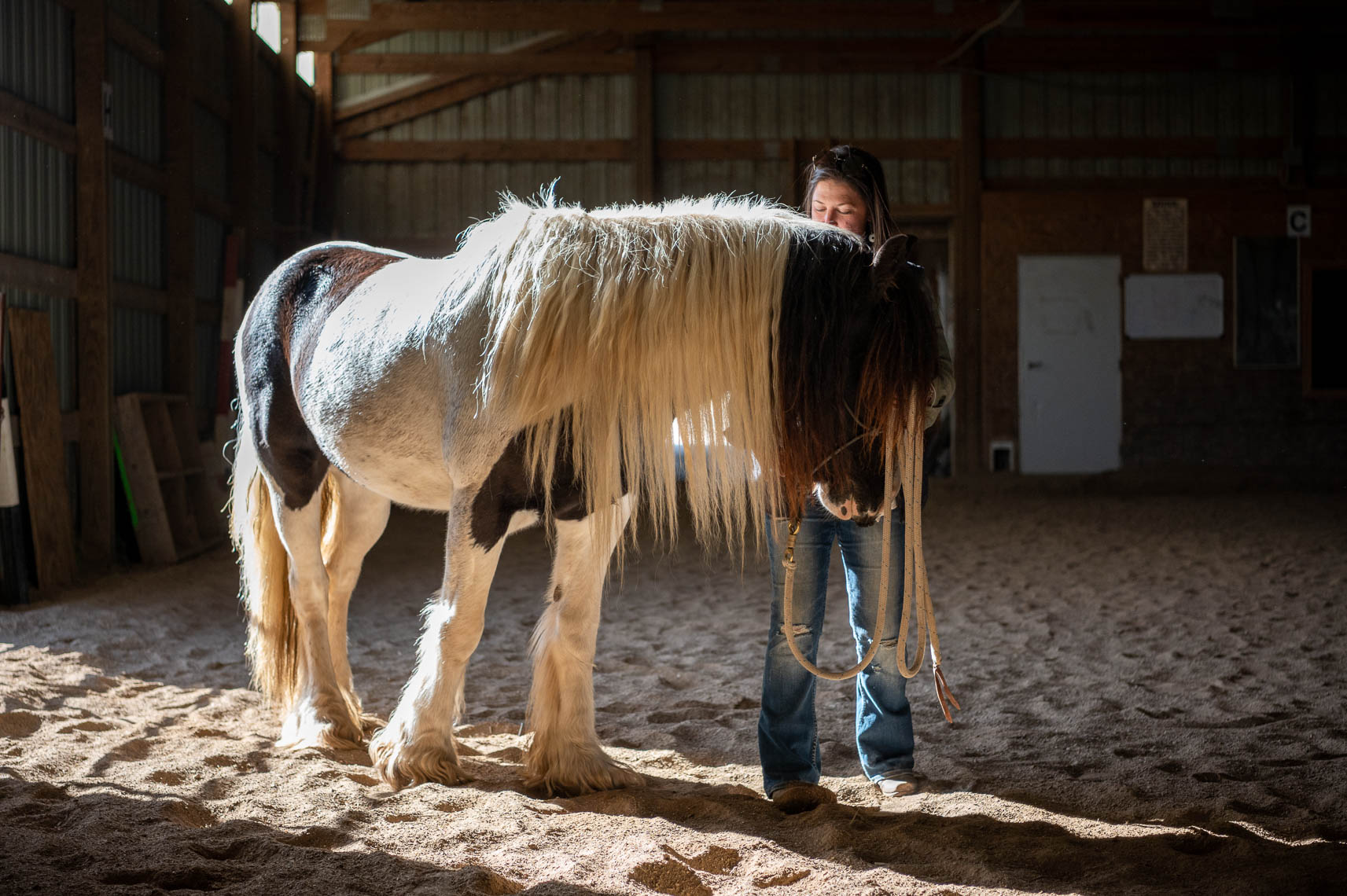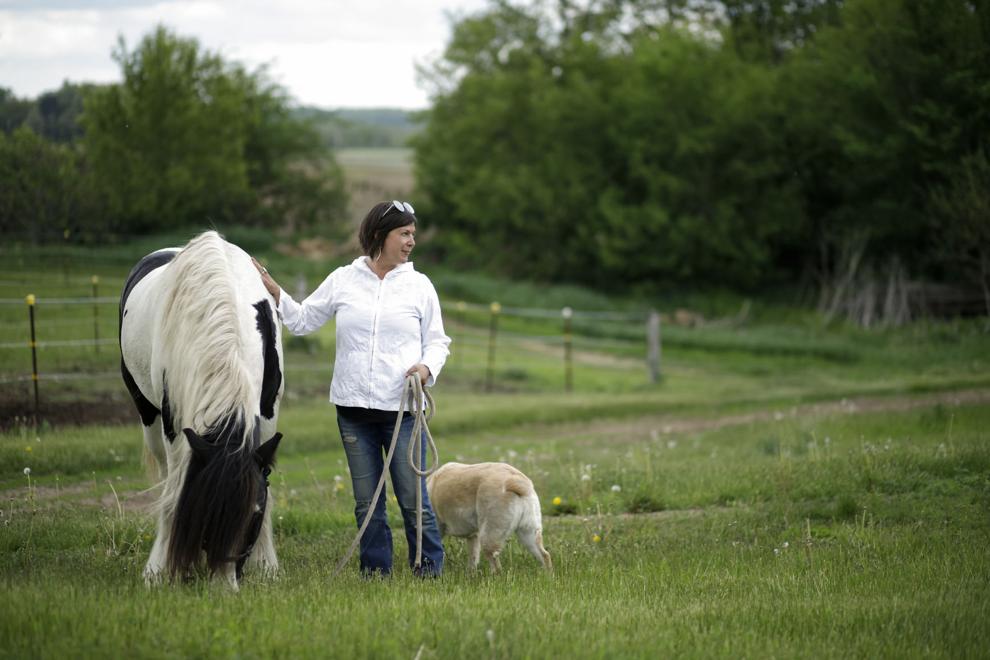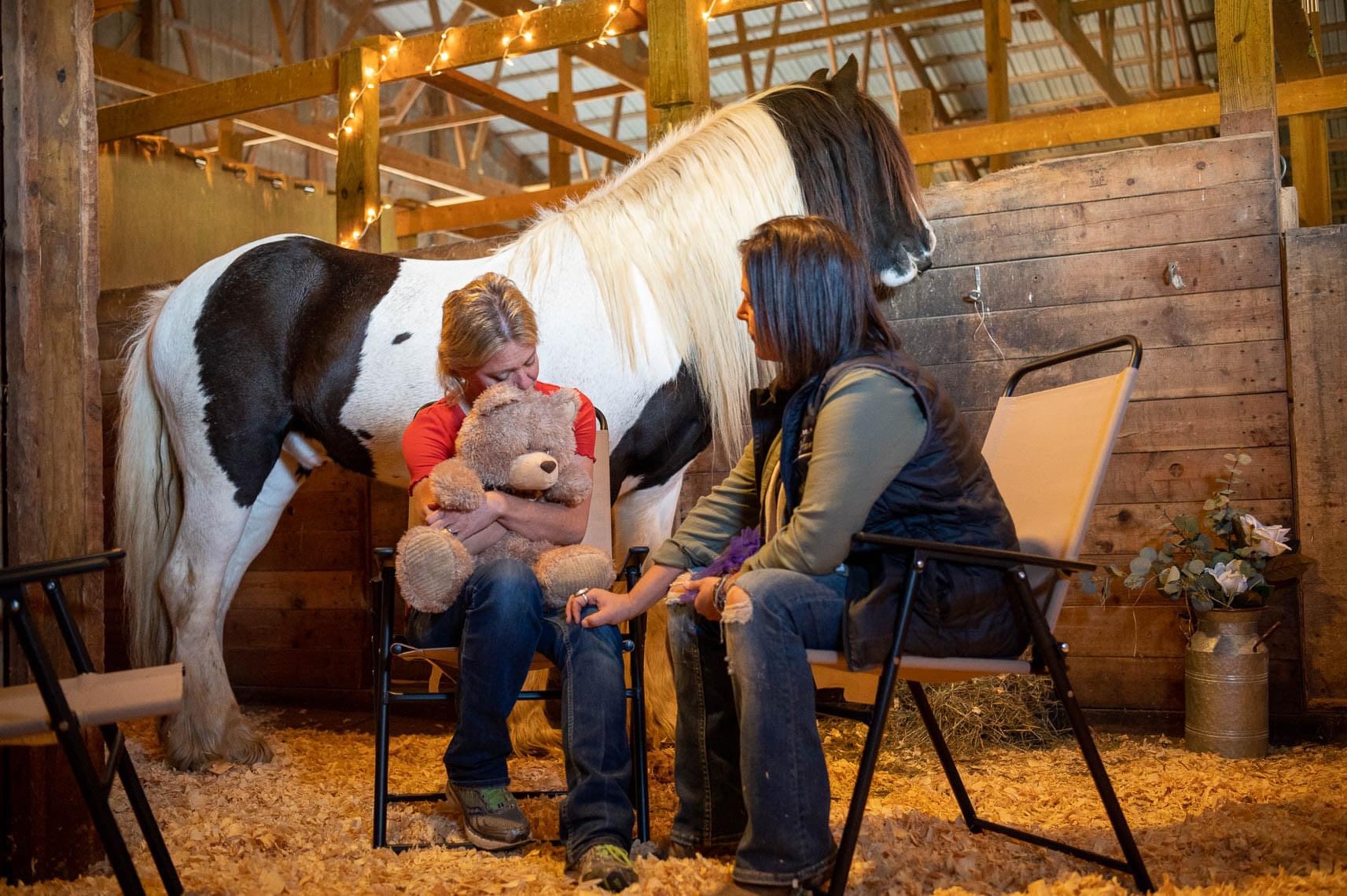 Meet Nelle Rogers
Horses have been showing up for me throughout my life, often at times when I lacked direction, had a broken heart, or didn't have words to put to my feelings. It has been in the powerful presence of horses that I have been able to heal my heart time and again – through my parents' divorce as a young girl, the loss of my mother to cancer in my early twenties, and later through the loss of my own marriage.
By sitting as a client in gestalt sessions alongside horses I have been able to clear up much of my own past trauma so that I can show up to guide others through the pain of grief and healing. I have worked through deeply ingrained anxieties and fear based thought patterns to a life of trust for what today and tomorrow may hold. The path has not been direct, and it has often been difficult. But each moment has led to now, and for that I am grateful.
What Qualifies Me to Work with You
Gestalt is a powerful healing modality that allowed me – as a client – to rediscover many of the passions I had discovered throughout my life and then lost touch with along the way. By sitting as a student-client I was able to dive deep into my past so that I could start to imagine a future for myself once again. The EGCM Practitioner Certification Program is an intensive two year program that includes on-site training under the close mentorship of Melisa Pearce, the founder of the method.
As practitioners, we are trained extensively in gestalt principles and trauma informed healing through parts of self awareness, vision and values work, family systems, somatics, chakra energy fields, co-active non-diagnostic coaching, group facilitation, and more. We also learn a number of pen to paper tools that help move you forward – between sessions with the horses – in the direction of your dreams.
I am a firm believer that most of what we do in life requires both soft and hard skills. Working with clients in healing sessions certainly does. It is my job to show up with deep understanding around the many facets of trauma and how it affects the mind and body while also showing up as a human with a deeply sympathetic and intuitive heart to the experiences you bring with you.
Seahorse Healing is a culmination of my many life passions – building healthy, supportive community in an alternative outdoors setting where I can share my passion for the healing power of horses with others. To guide you on your path is the greatest honor.
EDUCATION + QUALIFICATIONS
Master Gestalt Practitioner Certification | Touched by a Horse – Elizabeth, CO | 2022-2024
Equine Gestalt Coaching Certification | Touched by a Horse – Elizabeth, CO | 2020
DPI #300 English Language Arts 6-12 | Edgewood College – Madison, WI | 2011
BA English Literature | Edgewood College – Madison, WI | 2007
Outdoor Experiential Education | Camp Manito-wish YMCA – Boulder Junction, WI | 1993 – 2001
"I can look back on that young girl with compassion now, forgiveness. I can honor her pain, the layers of loss I didn't understand at the time."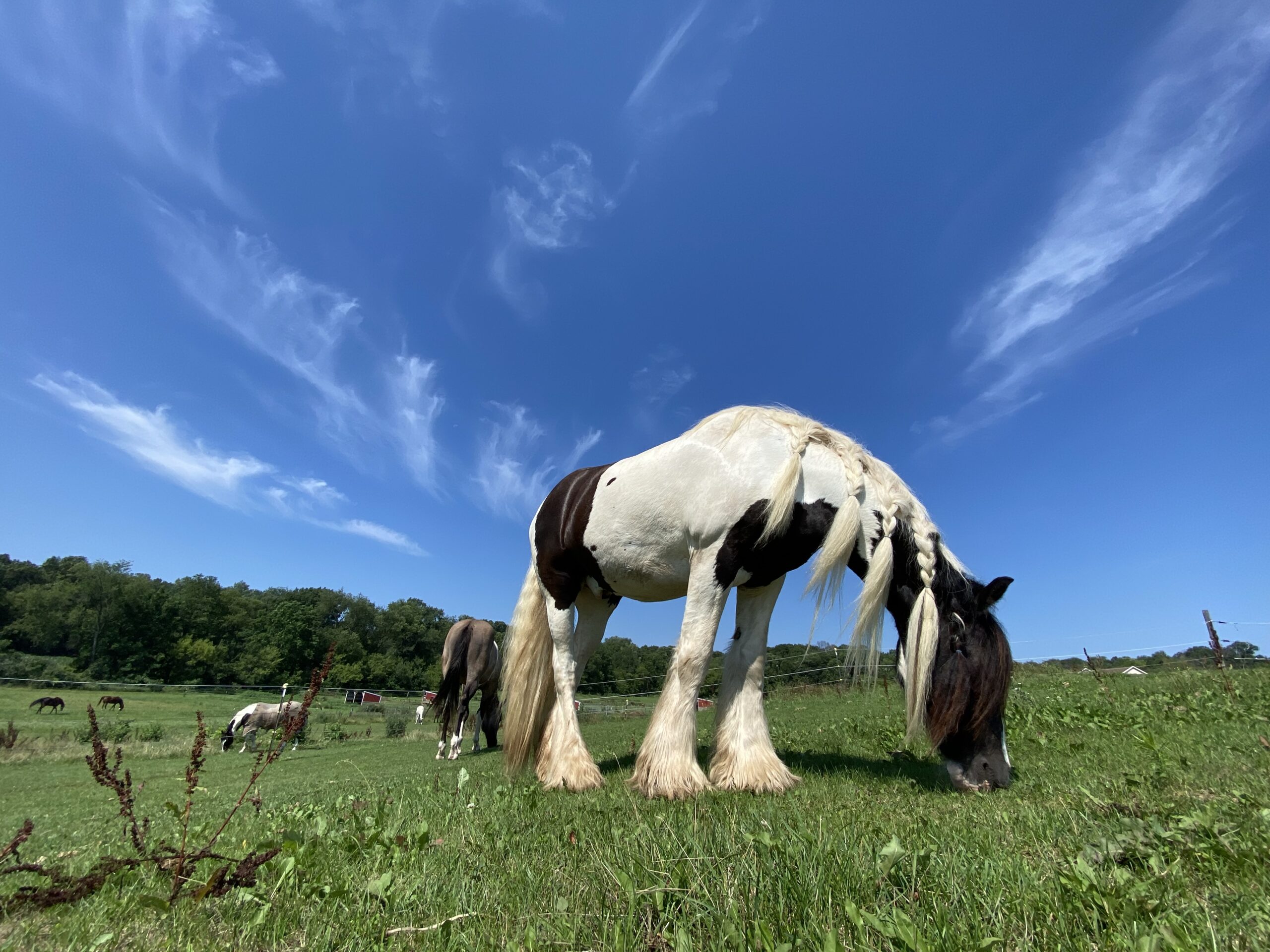 Magic the Gypsy Horse
Magic is Nelle's main coaching partner. He is playful, curious, and kind, loves attention and compliments. He is calm and steady with clients, often sharing his deeply grounded energy with them either up close or from afar. He will hug you happily by snuggling you into his neck with his strong head. A lover by nature, he is a gifted, gentle healing presence.
The Lady Della
Della is a seven year old Yellow Lab with angel wing markings on her back. She has the sweetest disposition, greets clients joyfully, and is known to many as "the smiling dog". She loves having visitors at the farm and will insist you give her a proper hello. She puts clients right at ease with her natural demeanor. Della is Nelle's constant companion, her shadow.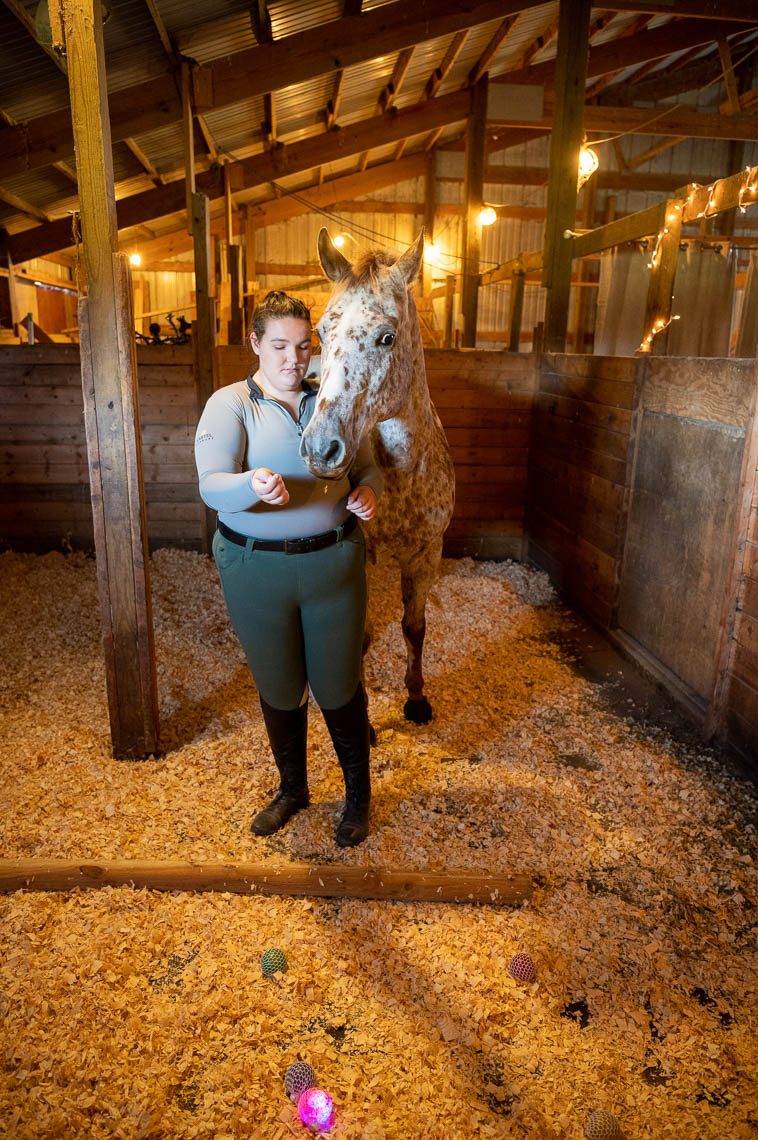 Why Horses?
As prey animals and as herd animals horses live with heightened relationship to their senses. With one flick of their tail or twitch of the ear they are communicating to each other. They do this constantly, all for the good of the herd. In this way they are also incredibly tuned into the micro-expressions we make as humans, idiosyncrasies between our words, thoughts and actions that are often outside of our awareness. This is one of the keys to their mastery as healers.
Horses are incredibly in tune with our feelings, and though they can glean images from our thoughts, they are much more interested in our emotions. It is my belief that they can sense when we are in alignment between our minds, our hearts, our words, and our presence – and when we aren't. As prey animals their keen ability to perceive and process the world around them is vital to their survival. When something is "off" in us, they perceive that as danger. They naturally call us out when this is the case, sometimes finding small lies we tell ourselves that we don't even recognize anymore. In the presence of horses, our deepest truths are the only message. 
Horses have been our trusted partners for centuries, often putting our needs well ahead of their own. I believe that the greatest gift we can offer back to them is to slow down and listen, to hear their profound messages, to welcome their healing presence to our hearts.
"EGC is a deeply personal path. For me it has meant learning to dream while also keeping grounded in reality. A true gift."  
Gestalt at a Glance
Deepen Your Somatic Energy Awareness

Heal Within on a Cellular Level

Learn to Respond Rather than React

A Non-Diagnostic, Co-Active Approach

Come Home to the Present Moment

Move Away from Fear and Towards Love

Re-Ignite a Sense of Joy & Purpose 

Step into a Brighter Future and Let Go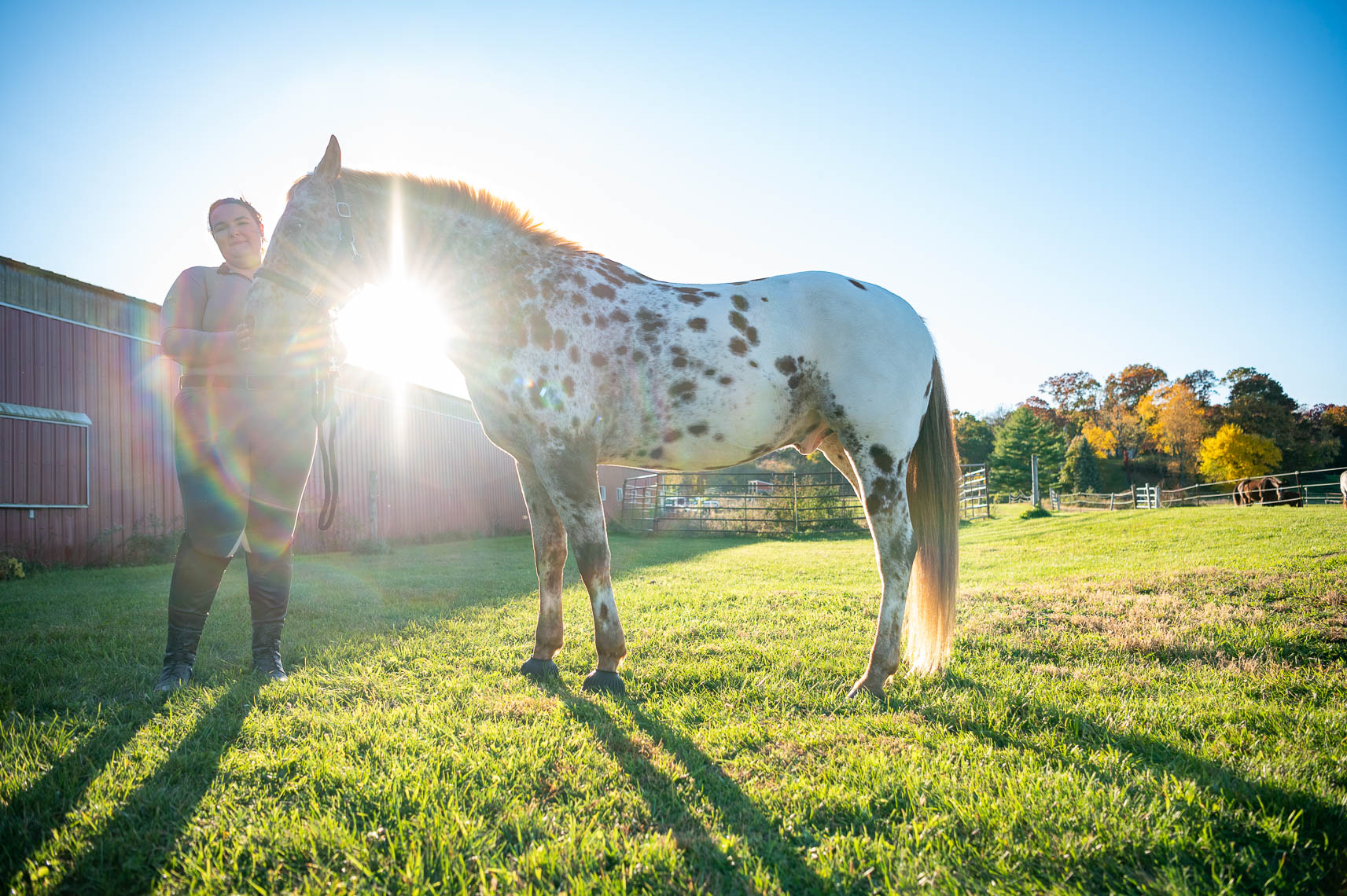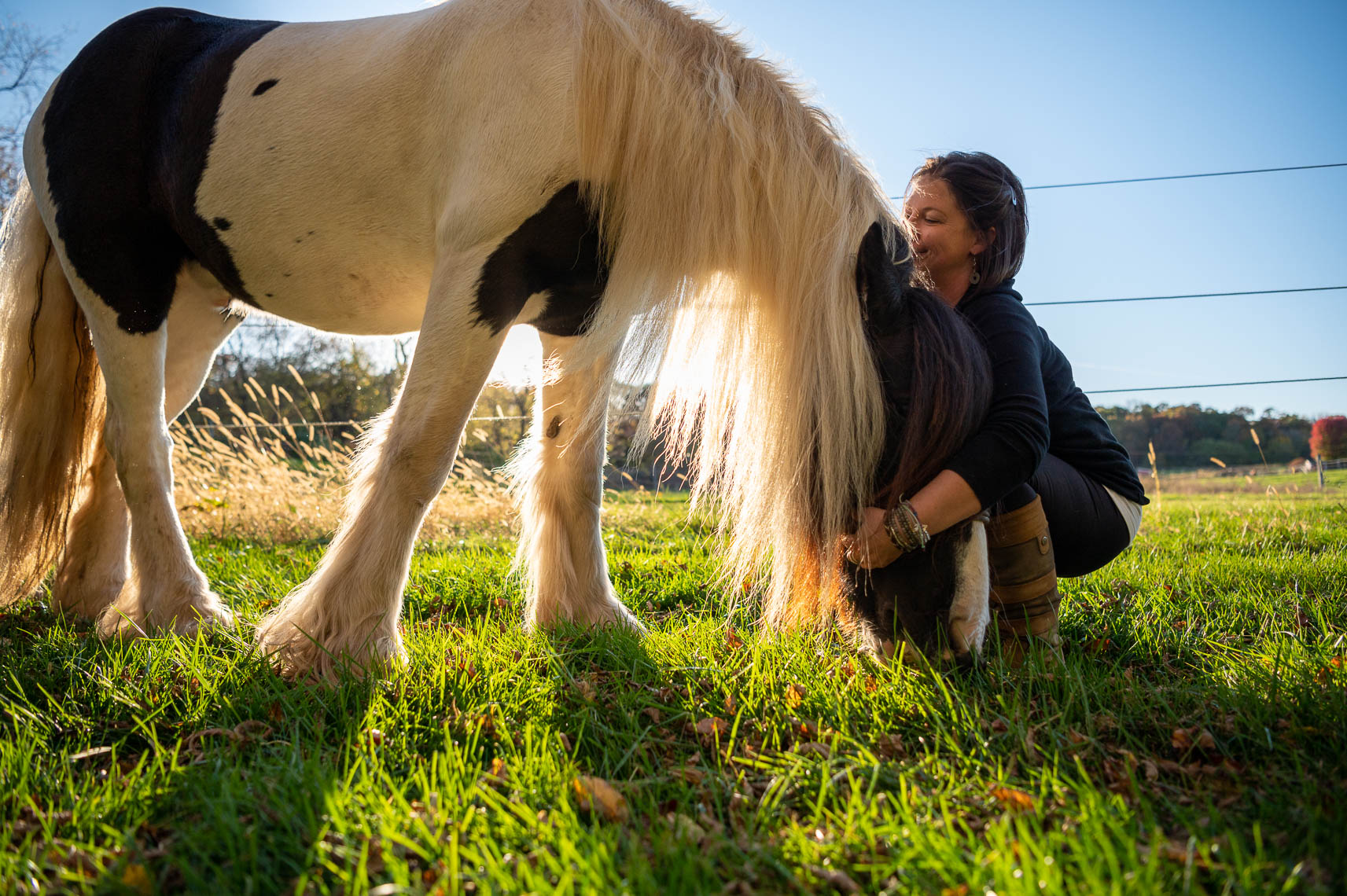 "My heart doesn't race anymore as it did when I lived more closely inside pain and trauma. In this way I know that growth has occurred, a deeply needed peace, some kind of arrival back into myself."
A Closer Look at Equine Gestalt Coaching
Gestalt is a big concept, one you most likely won't fully understand until you experience it because it is so much about the experience itself. At its most basic form, Gestalt is a German word that encompasses wholeness. At Seahorse Healing, Equine Gestalt Coaching is a method that helps bring clients closer to a sense of their own personal wholeness through experiential healing and transformation. Each session develops into a unique experience specific to the client's individual needs, presence, and path to self-discovery.
At its root, Equine Gestalt Coaching is a powerful form of deep healing alongside horses that guides you back to your truest self – the you that existed before life happened … to you, for you and within you. 
At Seahorse Healing we believe that you have the answers to your own life's mysteries, that you are the expert on you. It's my job as the coach to help bring these answers closer within your awareness. In this co-active process, we will move through experiential pieces of work to help reframe and transform past pain and grief so that you can move through life lighter, live with deeper joy, and rediscover your innate ability to create a life you truly love.
This work is as difficult as it is beautiful, as complex as it is powerful. It is about moving towards love and away from fear, towards deep self-compassion and away from doubt and self-judgment. I can't imagine a more freeing experience. It has changed my life in ways I couldn't have thought possible, and it is an honor to share this form of healing with you, with my community, with the world.
Preparing for Your Equine Gestalt Coaching Session
Often clients schedule an appointment expecting to work on one thing and then find themselves working on another thing entirely. One of the basic tenants of gestalt is being open to and honoring the present moment. As a client, I often found myself more emotional before a session, sometimes for days, as though my body sensed the healing that was about to occur. It can be hard to let go of the old, even if we know it isn't good for us anymore. Prior to your session be gentle with yourself. Allow for what is emerging within you and trust that we will work through whatever comes up in the moment for your greatest good.
I strongly encourage clients to make sure they have time after their session to process, journal, meditate, or sit quietly in nature. A truly deep session can leave the mind and body exhausted and thirsty. Drink plenty of water afterwards and listen to your body for what it needs. Gestalt is a process of digging out the old and making space for the new. Remember to honor yourself in every way you can as the process unfolds.
During your EGC Session, we will often be outdoors or in an unheated arena. Dress in layers and for comfort. This work is often messy and filled with tears. I leave the makeup at home. Close toed shoes are required to be around the horses year round. Please note that EGC is not a riding experience, and no horse experience is necessary.
Experiential HEaling
A time to get away from daily life, unwind + let go
Hope through Horses is a 501(c)(3) non-profit committed to securing funds for clients seeking healing, future practitioners in need of academic funding, and current practitioners looking to expand their practices.
When you donate to Hope through Horses from seahorsehealing.com, you are securing funds for future clients who may not be able to afford this transformational form of healing – right here at home.